Midbec Drummondville (Head Office)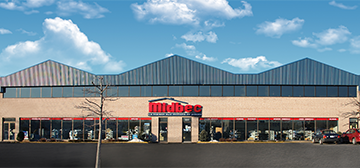 The story of Midbec
Midbec was originally founded by M. Gérald Léveillé in 1970. M. Léveillé was a businessman from Drummondville who was a born leader and innovator with a great work ethic and an undeterred perseverance. Midbec quickly became the leader for household parts. For M. Léveillé, customer service was always a top priority and it's what ensured success for its then ever-growing clientele.
Midbec grew its product range based on the needs of its customer base to become a one stop shop for all their needs.
In 1981, Midbec launches a new service: Reconditioning washer transmissions. Our reconditioned transmission were praised by our clientele considering we'd rebuild them meticulously and replaced plastic parts (which were prone to break) with much sturdier brass-based ones.
In 1990, Midbec throws its hat into the commercial refrigeration market and starts right making a name of itself.
In 1992, in order to gain a bigger part of the magnetic seals for refrigerators market, Midbec acquires Epton Industries, a major Ontario based leader in the manufacturing of this field. This new acquisition allowed us to increase our production.
In 1993, Midbec adds two new divisions: Laundry and Commercial kitchens.
In 1994, Midbec launches timer reconditioning
In 1996, we added the air conditioning and heating division. M. Léveillé's flair led him to China where he looking for the best products at the best price in order to better answer our clientele's needs.
In 2002, following the addition of new product ranges, Midbec moved its head office (main warehouse) on Lemire Boulevard, tripling the surface area (over 30 000 square foot of storage space).
In 2003, Whirlpool closes four stores: Ottawa, Dartmouth, Quebec and Brossard. The appliance giant sells the leftover inventory to Midbec and offers us to set up shop in the now closed Whirpool locations.
In 2004, Midbec becomes the exclusive distributor of the Nordyne product range (Westinghouse and Gibson).
In 2014, the now 74 year old business man, M. Léveillé, returns to China. Fascinated by the Hydronic radiant floor and seeing its long term potential, he meets the most important manufacturers in order to decide which product would suit best Midbec's clientele's needs. Not one to rest on his laurels, M. Léveillé also ponders a plan to bring the solar market to life in Quebec as he views it as something that will get bigger every year.
In 2015, Midbec needs to move once more to meet the ever-growing demand.
---